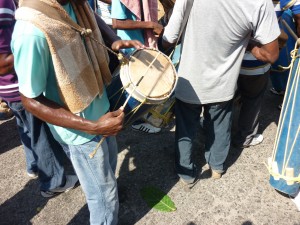 The initiation of this project is related to the affinity of Las Negras Productions with its main theme, Chimbanguele, a ritual dance from the Negro community of Venezuela.
Venezuela, half country, half a lifetime. Las Negras productions share their roots with the controversy of this country, where the sun shines and the cycle of life is marked by the tensions and struggles mother nature provides with. Conquered, exploited, land of slavery and fight for freedom. Venezuela continues to surprise us with its political twists, social proposals, amazing nature and rich culture. This country of ours, like Venezuelans call it, has a rich diversity of Ethnic groups and languages and a reality in which being white is still a sign of supremacy over the black and indigenous.
This project is not an autobiography, but is close. Its part of our culture and at the same time is remote. Being a reality experienced physically, but almost forgotten, kept in the subconscious, the past of the black race, slavery, lived by all its members in different ways. Las Negras Production wants to understand and document through this project the participation of the Venezuelan black community as active subjects of African descent in the historical development of the country. Not wanting to present the theme from the concept of oppression and submission represented in colonial production, but from their rituals. Las Negras productions places the spotlight on the songs, dances, poems and processions of the area of Lake Maracaibo in the State Zulia. The changes through time of the rituals and the process of transmission that has kept the traditions alive until nowadays, are the main target of this project, aiming to expose the continuous recreation of the African ancestral presence in this country.
This project is in its preparatory phase where partners and financing are being sought for the production of the film documentary Golpe Negro.