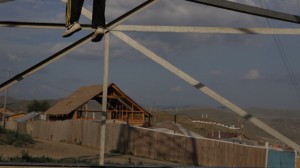 Being the first major film documentary done around Bi Biyilgee Mongolian traditional dance "Bi Biyilgee the dance of Life" is part of a broader project, LIVING DANCES. This project initiated by Las Negras Productions in 2009 focuses on the research around documentation methods, transmission and preservation of "endangered" dances from different countries.
Mongolian dance is rich in its forms. Connected to the way of living and to rich sounds the dance represents the values, traditions and essential characteristics of each ethnic group. Being a nomadic country that has recently achieved its independency, Mongolia is in a flourishing moment where traditions and innovations are walking together by the hand presenting problems and challenges around preservation, development and transmission of artistic praxis. With special focus on all these matters "Bi Biyilgee the dance of Life" will try to match the magic Mongolian people, landscape and art have ,while digging inside the historical and cultural problems this vibrant country is involved with. Focusing on the dance, the bodies and their differences between nomadic and sedentary way of leaving "Bi Biyilgee the dance of Life" will compare the institutionalized form of the dance, the one taught at arts schools out of the ritual context of the dance as well as the dance in the country side.
This interactive film documentary is a non linear film where the viewer needs to navigate by clicking the small videos that appears as small narrative units. The watch the film click here.